Keyboard controls and instructions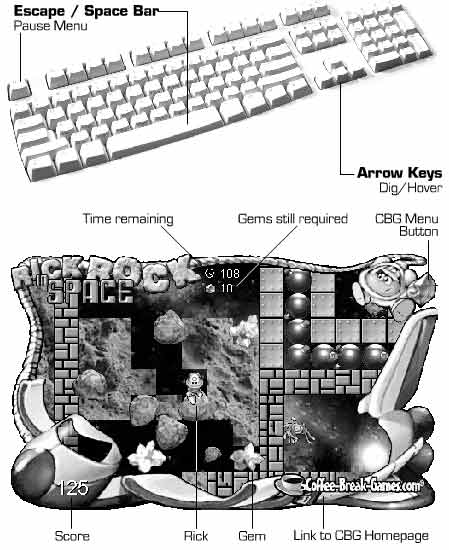 Help daring treasure hunter Rick Rock to face his greatest challenge in deep space! The GEM Corp. (for: "General Extra-Terrestial Mining") has hired Rick to infiltrate their deep space asteroid mining colonies and save their precious jewels.
As all mining bots are out of control for unknown reasons, Rick Rock has to retrieve the precious gems from a pandemonium of strange alien organisms, laser cutters and dangerous explosives.
Use the arrow keys to control Rick through the asteroid caverns. Collect gems and move boulders, but beware: in zero gravity, all objects keep moving in a straight line until they hit an obstacle.
As soon as Rick has collected the required minimum number of gems, the exit to the next stage opens.
To help Rick on his mission, the GEM Corp. has dispatched a crew of service droids he will encounter in the mines. A service droid is completely harmless to Rick and follows his every move. But don't mistake them for dangerous aliens or wacked-out cargo robots!